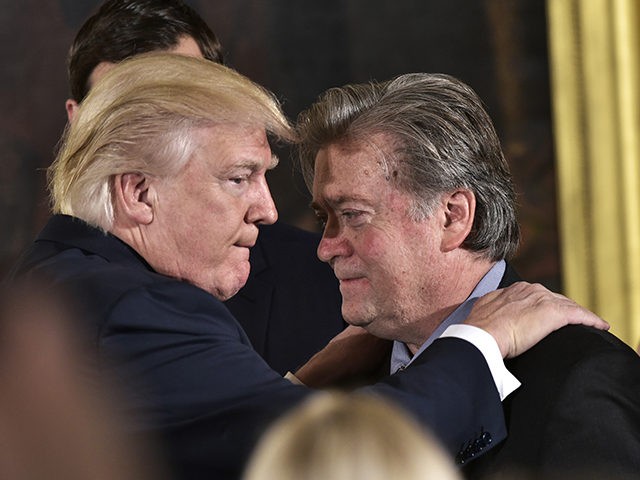 BREAKING NEWS! After swell of support for my bill to kick Steve Bannon off the NSC, he has been removed from NSC!

#DepoliticizeTheNSC #FL07

— Rep Stephanie Murphy (@RepStephMurphy) April 5, 2017
I *think* this is good news, but I don't think Rep. Murphy's reason is why. Donald Trump isn't going to respond to signatures gathered by constituents of a Democratic member of the House. Honestly, I'm not sure of the reason why, other than I don't think we know it yet.
The
White House's explanation doesn't make sense
:
The decision to remove Bannon from the council is the first public diminishing of his power inside the West Wing, two senior Republicans close to the White House noted. One official was skeptical of the pro-Bannon spin from sources saying he was only there to keep eye on Flynn.
The argument that Bannon was on the council to watch Flynn ignores that fact that the former campaign adviser was Trump's top pick for national security adviser and someone the President has defended even after he asked for his resignation in February.
Flynn may have been closer to Trump than Bannon is. I know that Trump has been appointing lackeys to keep an eye on appointees, but it doesn't feel likely like that's the case here.
Another said Bannon was only on board to oversee Flynn's work to "de-operationalize" the National Security Council from the broad purview it had under Susan Rice, President Barack Obama's national security adviser.
Using the name "Susan Rice" is the White House's current deflection method, so that's a tell that it's not it, either.
To Eric Garland, he's got a hammer, so everything looks like GAME THEORY to him:
UNDOING THE DAMAGE: Bannon off NSC...CIA, DOE, and Joint Chiefs back on.

A big move is coming...

https://t.co/oUdDkXptV3

— Eric Garland (@ericgarland) April 5, 2017
Could it be
because of a civil war brewing among Trump's people
?
Roger Stone claimed Tuesday that Jared Kushner, senior adviser and son-in-law to President Trump, is leaking information to MSNBC in order to hurt White House chief strategist Steve Bannon.
Citing unnamed sources, the longtime Trump confidant told Infowars' Alex Jones that Kusher is sending text messages to "Morning Joe" co-host Joe Scarborough.
"The president's son-in-law, Jared Kushner, perhaps the one presidential aide who cannot be fired, is now in regular text-message communications with Joe Scarborough," Stone said. "Many of the anti-Steve Bannon stories that you see, the themes that you see on 'Morning Joe' are being dictated by Kushner."
I don't know. Roger Stone making that statement one day and Bannon being demoted the next? Feels too clean. Besides, the support of Robert and Rebekah Mercer has to remain really important to Trump, and I can't imagine they'd stick with him if Trump sidelined both of their hand-picked representatives in the regime -- Bannon and Kellyanne Conway (who I haven't seen in weeks) -- less than three months into the regime. Speaking of the Mercers,
maybe this has something to do with it
?
A non-profit organization, Making America Great, has launched an advertising campaign to promote President Donald Trump's achievements in 10 states, attempting to gain support from Democratic senators.
A 30-second commercial, entitled 'Making America Great Together,' launched online this week, and has a $1 million TV ad budget behind it, as well as a $300,000 digital spend, according to a Bloomberg report.
Making America Great is aligned with Rebekah Mercer, daughter of Robert Mercer, whose Renaissance Technologies and affiliates donated around $34 million to Trump's election campaign.
That felt like flailing to me on their part; maybe they're recalling Bannon to redeploy him somewhere they think he'll be more useful? I think that's the best theory I've got at the moment, but I wouldn't bet anything on it.
I like to think it went down like this....

MCMASTER: Call it the Nationalist Security Council ONE MORE TIME...

https://t.co/zDZ8YYLzcT

— LOLGOP (@LOLGOP) April 5, 2017
Heh. That's as good an explanation as any I've seen so far!